I'm so excited to finally share all of the pictures and details of our fabulous Mary Poppins Blogger Party! Do you remember, we had a giveaway where 10 blog readers and a guest were invited to attend a fun party at Toni's home (Design Dazzle), hosted by 12 Utah bloggers (including me). We had an amazing day filled with perfect weather, gracious guests, wonderful hosts, delicious food and amazing sponsors and vendors! Here are some great pics to browse of the event taken by Lyndsey at Lyndsey Fagerlund Photography.
The darling invitations were sent out to our guests. Chalkboard art, daisies, cherries and, of course, Mary Poppins was the theme of our party! Invitations and printables by Design Dazzle.
All the red gingham fabric and black and white polka dot fabric was donated by Online Fabrics. Thank you to those who helped sew the tablecloths!
All the food was made by the blog team! We seriously had a lot of compliments on how yummy the food was! Appetizers, strawberry spinach salad and gourmet sandwiches – all delicious. Love the mason jars and daisy cut lids.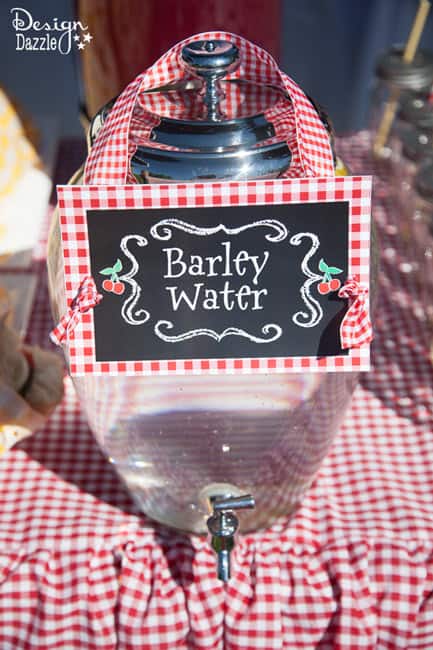 "And never smell of Barley water" lyrics from the song The Perfect Nanny. Our water just happened to be good old cold water ; )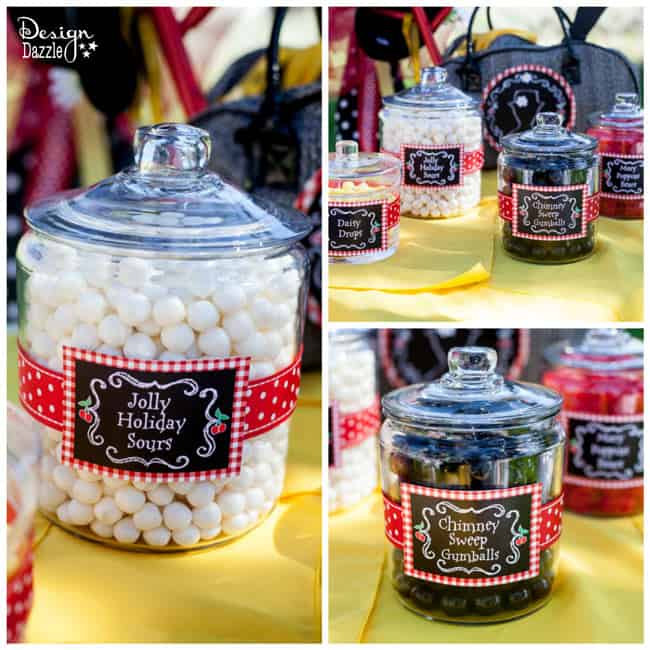 Super amazing cookies!! Can you believe the art on these? Makes you almost not want to eat them!
All the guests and bloggers received a Mary Poppins Necklace. So fun!
Our Mary Poppins blog reader party wouldn't have been possible without the help of our FABULOUS sponsors and vendors! We would especially like to thank our Head Sponsors who each contributed over $500 worth of prizes and products to our event!
Head Sponsors
Clear Bags offers remarkable packaging at unbeatable prices. Visit their website to see their vast selection of over 4,000 items which are designed to help people & companies promote, protect & preserve their products. Stop by their Facebook page to see creative ways to use their products.
NS Minerals is an all-natural cosmetics line created to make every woman beautiful at an affordable price. Visit their website to see their full cosmetics line and Facebook page for great tutorials and special events.
NoVae Clothing was created to offer its customers current fashion combined with modest style. Visit their website to see their full line of clothing, shoes & accessories and check out their Facebook page for new products and special offers.
Vintage Rose Wraps sells beautiful, hand made in the USA, fabric headbands for women and girls of all ages. Visit their site to see the headbands and other fun accessories they sell in their shop and be sure to check out their Facebook page for special offers and events.
Design Dazzle decor shop offers bedding, art, rugs, lighting and accessories to help you create beautiful rooms for kids. Stop by their Facebook page to see creative room design ideas and fabulous kids parties.
Party Design
Party design and styling by Toni Roberts, Design Dazzle. All Mary Poppins party printables available here.
Gift Bag Sponsors
American Crafts – Crate Paper fabric frames for each guest + Project Life album
Bake It Pretty – 2 sets of sprinkles + favor bags for each guest
Brilliant Nutrition – vitamin supplement packs for each guest

The Chocolate – gift certificate for each guest
Vinyl Wall Art – chalkboard label sets for each guest
Kara's Party Ideas Shop – gift certificate for each guest
Pick Your Plum – set of ric rac trim for each guest
Jessie Steele – gift basket – pajamas, apron and goodies
Design Dazzle – Mary Poppins necklaces and Mary Poppins printed favor bags
Jane – necklaces for each guest
The Wood Connection – gift certificates + paint brushes for each guest
My Mind's Eye – rolls of washi tape for each guest
Supplies Sponsors
Online Fabric Store – all fabric for tablecloths + umbrella stands + $50 gift certificate
Lowe's – supplies to make the dessert table backdrop & temporary party structure that held all the umbrellas
Bake It Pretty – glassine bags, mini & regular cupcake liners, straws
Kara's Party Ideas Shop – mason jars & daisy cut lids
Dessert Table Sponsors
Cupcake Chic – mini & regular cupcakes + bonbons
The Cookie Jar – royal icing cookies
Le Petit Macaron – macarons
Sweeten Your Day – fondant toppers
Autumn Lynn's Chocolate Sins – cake pops
Sugar Rush Stuff – mini cherry pies
Jamie Roberts – bowler hat fondant toppers & spoonful of sugar chocolates
A big THANK YOU goes out to the 12 bloggers who helped make this event happen! Toni from Design Dazzle, Kara from Kara's Party Ideas, Holly from Paisley Petal Events, Tara & Wendy from The Dating Divas, Jen from The Project Girl, Brittany from One Charming Party, Michelle from Faith, Trust & Pixie Dust, Jonie from Just Between Friends, Tauni from SNAP!, Debbie from Made From Pinterest, Sara from Confetti Sunshine, and Wendy from The Shabby Nest.
Want to see some of the behind the scenes pics? Go to Design Dazzle and check it out.